Smoothies: Everything You Need To Know About It
Everything You Need To Know About Smoothies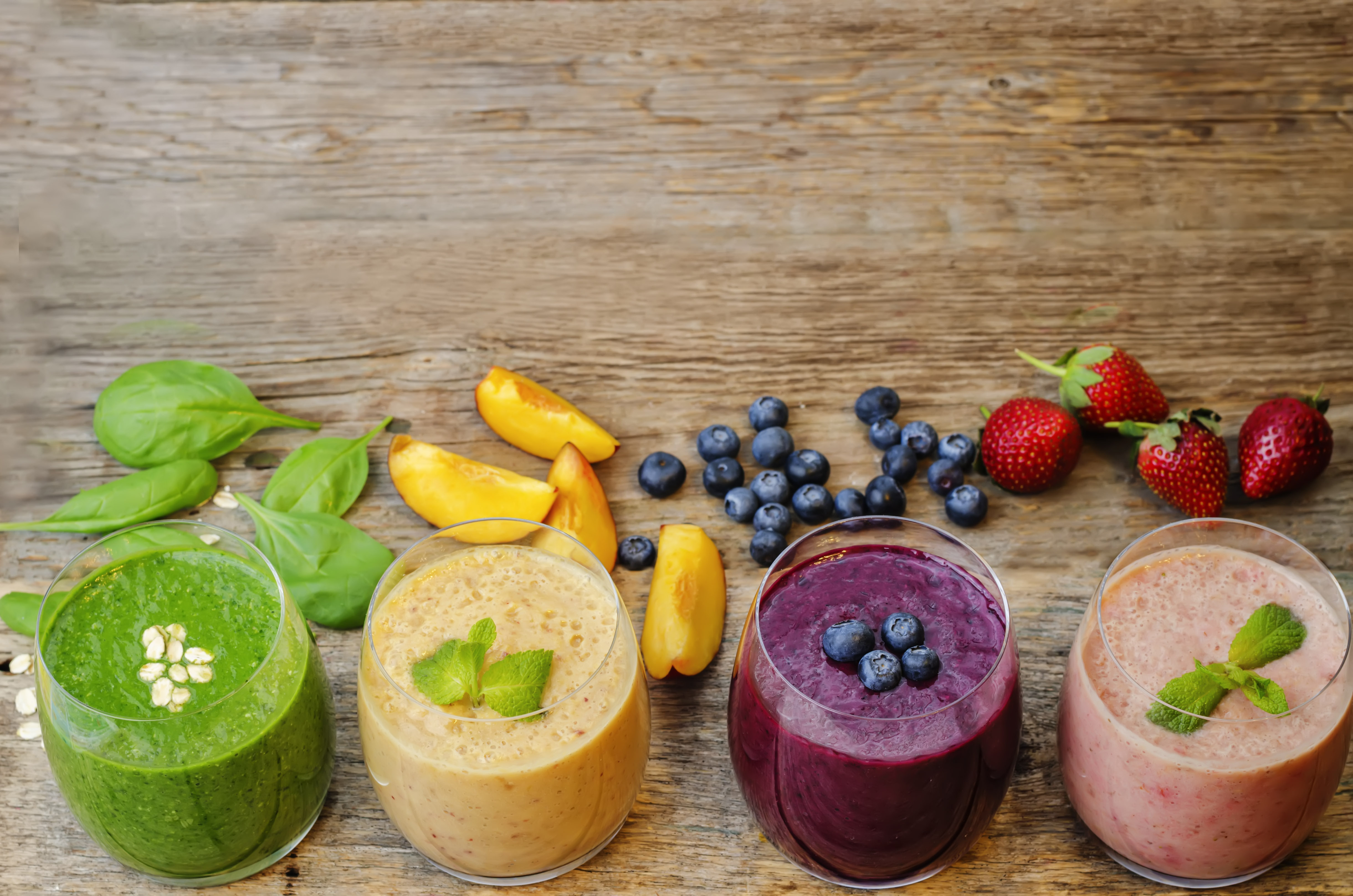 Smoothies are becoming a popular wellness trend and are branded as healthy food. For any taste or dietary preference, these versatile beverages are compact, family-friendly, and adaptable. Smoothies are easy to make for yourself, but from specialty cafés and most major grocery stores, you can buy new or bottled ones too.
This article explains everything you need to know about smoothies, including different methods of preparing smoothies in advance, tips for making nutritionally balanced versions at home, and whether they are right and healthy for weight loss.
What Are Smoothies?
Smoothies are thick and creamy beverages that are commonly blended from puréed fresh fruits, vegetables, greek yogurt, seeds, nuts, and any milk such as almond milk, coconut milk, soy milk, and more.
Basic smoothies begin with two essential ingredients — a liquid and a base. You can then incorporate different components depending on your taste and preference.
Most smoothies add ice cubes or frozen produce to make a cold and icy consistency. Their flavor profiles vary depending on the ingredients.
Steve Kuhnau created the first Smoothie King in Louisiana in 1973. Kuhnau, who has been working with smoothie recipes for years, has introduced components such as milk, vanilla yogurt, protein powder, and vitamins to his delicious smoothies. In the next three decades, Smoothie King's smoothie shops expanded throughout the world and rendered the phrase smoothie a common expression. Around the same period, smoothies have been popular in more supermarkets, salad bars, and smoothie shops. Shortly, pre-bottled smoothies, created by firms such as Naked Juice and Odwalla, emerged in the grocery store. Today, smoothies of any taste and quality are simple to find, no matter where you are. Also, several blogs and books provide healthy smoothie recipes.
What Are The Different Types Of Smoothies?
Many smoothies may be grouped into one or two categories — although there are significant overlaps between them:
Fruit smoothies: As the name suggests, this form of smoothie typically contains one or more varieties of fresh fruit combined with fruit juice, milk, and tea.

Green smoothies: 

 

This type of smoothie, which includes lots of vegetables, is branded as a healthy alternative to milkshakes for health-conscious individuals. The nutrient content of a smoothie varies on its proportions and ingredients. 

A green smoothie consists of 4050% green vegetables, typically raw green leafy vegetables, such as kale, collard greens, swiss chard, spinach, parsley, celery, or broccoli, while incorporating other ingredients like fresh fruit or juice. Spirulina and wheatgrass are also a healthy ingredient.

Protein smoothies: Protein smoothies typically begin with a liquid and a few fresh vegetables or fruits, and the primary protein source such as protein powder, Greek yogurt, or silk tofu.
What Are The Common Ingredients in a Smoothie?
There are so many choices on what you can add on a smoothie meal. Each group of ingredients contains different health benefits. Below are some of my best suggestions on what you can put on your morning smoothie:
Fresh or Frozen Fruit: You can make a combination of new and frozen fruits in your smoothies such as frozen berries, frozen strawberries, goji berries, and more. The frozen fruit provides a thick and creamy texture to your smoothie. I usually prepare and freeze peeled and cut ripe bananas, so they are always ready to be added to smoothies.
Vegetables: Veggies are nutrient powerhouses, so incorporating them on your morning smoothies is a perfect way to start the day off on a safe note. Spinach, kale, and other vegetables are easily mixed into smoothies. You can try adding frozen cauliflower to your smoothies and not even notice it. If you have a heavily powered blender, consider incorporating carrots for a good dose of sweetness to your morning smoothie.
Avocado: Avocado contains healthy fats and is an excellent ingredient for your smoothie, it blends up smoothly, and you won't even taste the avocado!
Oatmeal: Adding old-fashioned oats is a simple way of transforming your smoothie into a breakfast smoothie. You can put raw oats to your blender along with the other smoothie ingredients and blend until smooth.
Greek Yogurt: Greek yogurt is a great way to add protein to your smoothie for those who want a dairy-free smoothie. Yogurt can make smoothies creamy.
Nut Butters: Nut butter is rich in healthy fats and protein, which makes smoothies more velvety and creamy and makes you feel satiated.
Seeds: Chia seeds, hemp seeds, flaxseed, and so on are a good source of nutrition and fiber to your smoothies.
Liquid: The star ingredient in making smoothies is the liquid ingredient. It is essential to help your smoothie blend well. Many choices are ranging from coconut water to plain water, milk, almond milk, oat milk, coconut milk, and juices such as lime juice, carrot juice, beet juice, and more.
Flavor Boosters: A teaspoon vanilla extract or a pinch of cinnamon, nutmeg, and natural flavorings such as tablespoons honey, maple syrup and more can enhance the flavor of a smoothie!
Different Methods Of Preparing Smoothies In Advance
The Pre-Blended Method
For those who want to create a weekly batch of smoothies ahead of time to be ready for busy mornings, this method is for you! In this method, it is crucial to invest in right freezer-safe containers that are fully airtight, such as Mason jars. Mix the smoothie of your choosing and place the individual portions into the containers, make sure to leave at least an inch of space at the rim, because the mixture expands as it is frozen.
Keep your airtight jars in the fridge, and when you're about to drink one, put it in the refrigerator overnight to thaw so that it can be ready to drink by morning.
The Ice Tray Method
If you choose not to fill up valuable real estate in your freezer with piles of airtight containers, another option to freeze your pre-blended smoothie is to use an ice cube tray to create smaller smoothie cubes. Just pour the mixed smoothie into the sections of the tray and place it in the fridge to solidify. This makes it ideal for people with hectic schedules because you can toss some of the frozen smoothie cubes into a to-go cup to thaw on the way out of the house in the morning.
In this process, instead of thawing overnight in the refrigerator — which, if left too long, will cause the fruit and the liquid in your smoothie to begin to separate and produce a funky flavor — you thaw in the morning when you continue your day.
The Prepped Ingredient Method
Although this approach can take a little more time out of your morning — no more than a minute or two — it's the perfect way to ensure a delicious and refreshing smoothie every time.
Instead of mixing your smoothie in preparation and storing it as-is, using this process, you'll slice and pre-portion your smoothie ingredients into small freezer-friendly containers to be easily tossed your NutriBulet or Blendtec blender in the morning with a splash of your preferred milk such as soy milk, unsweetened almond milk, unsweetened milk or yogurt (low-fat yogurt, plain yogurt, vanilla yogurt, and full-fat yogurt).
One of the advantages of this approach, aside from the fresh taste, is the opportunity to plan several kinds of smoothies ahead of time, rather than making the same smoothie that will render your morning routine repeatable. Although some of your smoothie bags may contain a sweet, fruity mixture of frozen bananas and mixed berries, others can prepare in the greens with a blend of kale and pineapple.
A tremendous standard proportion of frozen ingredients for a single meal-sized smoothie is one slice of frozen banana, 2 cups of fresh fruit, 1 cup of greens and protein powder to combine with 1 cup of the fruit juice such as orange juice, coconut juice, lime juice, apple juice, grape juice and more of your choosing. While this does take a little effort in the morning, the real advantage of this approach is that it enables you to plan your smoothies recipes in 3-6 months time. Pre-blended smoothies, on the other hand, should be eaten within a few weeks of freezing.
Can Smoothies Help You Lose Weight?
Research shows that smoothies can be beneficial for this reason as long as it is not causing you to surpass your every day calorie needs. Although some people consider smoothies a convenient way to track meal servings and keep on top of their weight loss objectives, some do not feel as satisfied because they drink their calories instead of eating them.
That said, a variety of small studies found that smoothies used as food alternatives can be as satisfying as solid foods and that consuming calories instead of chewing them does not automatically contribute to overeating when solid foods are eaten later.
Eventually, while weight reduction can be a complicated method with several influencing variables, it is essential to consume more calories than you gain. If a smoothie enables you to substitute for specific calories that you might typically eat, it may be an efficient weight-loss method.
If you offer preference to ingredients low in calories and high in protein and fiber, your smoothie can keep you full before your next meal. Whole fresh fruits, vegetables, almond butter, and low-fat yogurts are also outstanding weight-loss-friendly foods.
Bear in mind that the food requirements and desire to lose weight vary based on several variables, including age, exercise, medical background, and lifestyle patterns.
Here Are Some Healthy Smoothie Recipe You Can Try At Home
Berry Smoothie Recipe
Berries are a powerhouse source of antioxidants. And it's an excellent main ingredient for your smoothie!
Ingredients
1 cup of frozen berries
1/2 cup plain yogurt or vanilla yogurt
1 cup milk of your choice (soy milk, coconut milk, unsweetened almond milk, unsweetened milk, and more!)
1 tbsp. condensed milk
Directions
Peanut Butter Smoothie Recipe
The peanut butter smoothie is a great recipe to start your day, and it also provides long-lasting energy.
Ingredients
One banana
1 tbsp. natural peanut butter
1/2 cup plain yogurt
10 oz. Milk of choice, such as unsweetened almond milk, soy milk, coconut milk, or unsweetened milk.
Two tablespoons honey (or more if desired)
Directions
Vegan Smoothie Recipe 
One soft fruit
Two handfuls of frozen fruit or fresh fruit
Three tablespoons vegan protein powder
1.5 tablespoons oil 
1.5 cups coconut juice or orange juice
Tablespoons Almond Butter
One tablespoon honey  or maple syrup
Six coconut ice cubes

Directions
Banana strawberry smoothie recipe
Satisfy your craving and increase your protein intake with this banana strawberry smoothie recipe.
Ingredients
1 cup of soy milk
5 oz. silken tofu
One frozen banana
2 cups fresh strawberries
Two tablespoons honey
One teaspoon ground cinnamon
Directions
Smoothies can be adjusted to meet your needs.
You may drink smoothies as a snack or a meal replacement, but it's a good idea to know which types to choose — especially if you're talking of a particular fitness or body structure target.
There is a widespread belief that smoothies are typically low-calorie foods, but individual smoothies produce more than 1,000 calories depending on their size and ingredients.
Generally, a 200–300-calorie smoothie with 10 grams of protein is a perfect snack, whereas a 400–800-calorie smoothie with at least 20 grams of protein is balanced as a meal replacement. It's better to measure your targets and your calorie requirements and evaluate your exact needs.
Many smoothie chains offer details about the ingredients and quality for each of their products, which typically come in 16–32-ounce (475–945-mL) servings.
When making smoothies at home, make sure to monitor the portion size. Fats such as almonds, peas, peanut butter, plain yogurts, and avocado can have more calories but provides excellent nutrition. Meanwhile, added sweeteners like syrups will provide more calories without quality nutrition.
The bottom line
Smoothies are everyday meals and snacks that can match practically any taste or dietary requirement. Their ingredients primarily decide their nutrient content.
The most natural smoothies are produced with whole foods such as vegetables, fruits, greek yogurt, and healthier fats, whereas those with a ton of added sugars are not nutrient-dense, and that leads to adverse health effects over time.
Smoothies rich in protein and fiber can also help to minimize weight.
If you're searching for an innovative way to improve your fruit and vegetable consumption, smoothies might be the way to go.